Everyone likes to know the news, especially when it comes to Knight Rider, Ford or Pontiac. That is the reason why we showed up all the news about it for the KR Fans.
Iedreen wil het nieuws volgen, vooral als het om Knight Rider gaat. Daarom hebben wij voor alle KR fans het nieuws van Knight Rider op een rijtje staan. Good luck! And if you have something to mention about these messages or if you have news yourself what has to do with Knight Rider, feel free to tell this in our Guestbook or send us an e-mail! Thank You!
PS: Some news is shows in the English/American language, the others are shows in the Dutch language. Sometimes you need to translate it, but this will do.
KR MAGAZINE TURNS 3 YEARS!!!
It will finally happen: KR Magazine turns 3 years in August 10, 2013!!! And we want to celebrate this with a special edition of the next KR Magazine! Not only the cover will be shown on the site: Even the official pages will appear!!! So stay tuned if you want to be informed about this day!!
The Producers of KR Magazine
 
We are sorry that it took so long with our KR Magazines. They are in the creationprocess. They will be soon showed o the site!
Knight Rider 2008 is weer

terug op de buis!!!!!!!
Het is eindelijk zover!!! Knight Rider 2008 is weer terug van weg geweest! De serie is vanaf nu elke zaterdag om 14:50 uur te zien op RTL 7!!! KIJKEN DUS!!! 
KNIGHT RIDER CONTEST!!!
Hallo KR Fans!!! Vanaf deze maand kunnen alle KR Fans meedoen aan de Knight Rider wedstrijd!!! Je kunt er fantastische prijzen mee winnen!!! Dus kijk naar de pagina KR Magazine Knight Rider wedstrijd!!!
Knight Rider Festival IV
KR Magazine nr. 7 is er!!!
Na een lange tijd wachten is ie er eindelijk!
KR Magazine nummer 7! In deze editie gaat het over de nog nieuwere KITT van Knight Rider:
De Knight Industries Twelve Thousand!!! Maar deze KITT is een Chevrolet Camaro in de nieuwe Featured Film, die in 2012 op TV komt!!! 
Lees daarom ook alles over deze nieuwe super auto om meer over de nieuwste Knight Rider film te weten te komen! Wij hopen dat jullie het nieuwe KR Magazine leuk vinden!
Groetjes van de KR Magazine producers.

Probleem met KR magzine nr.5!!!
Iedereen die op deze site komt, wacht al een poosje op KR Magazine nummer 5. Namens de KR Magzine producers bieden we onze excuses aan, dat het 5de magazine nog niet uit is. Er is helaas een storing opgetreden in één van de programma's, waar we juist het KR Magazine mee maken. Nogmals excuses. We weten niet hoelang het gaat duren. Dus kunnen we ook niet zeggen of het 6de magazine op de site komt. We laten het je weten op deze pagina.

Knight Rider's KITT Stolen in Toronto!!!
You know what feature the new version of the Knight Industries Two Thousand could use? Theft protection.
Apparently on a publicity event almost a week ago in Toronto Canada, someone managed to steal the actual Modified Mustang that is used in the new NBC series Knight Rider. RGBFilter says:
The car was making a stop in Toronto for a publicity stunt in front of Union Station on Front Street. The car was being unloaded from its transport trailer for a crowd of onlookers. When its handler turned her back for a moment, a man darts from the median, jumps into the still-running ride, and peels off heading East on Front Street.
In this video, you see the security team member wheel the new KITT off the flatbed truck and then exit the car (still running) to return to the truck. With the door still open, some impulsive car thief ran out and hopped in the car and took off.
Hier nog een paar anderen:

Hoff video-time: Day Rider
Videobeelden van The Hoff zijn altijd een reden voor een artikeltje. Ditmaal ligt onze ex-televisieheld niet op de grond een burger naar binnen te schuiven, nope, hij is hoofdpersoon in een korte cartoon. Deze knightrider spoof  is een paar maanden terug gemaakt door een reclamebureau van het Australische Carsguide, een online occasionboer. Dit filmpje past precies in: De top 10 van de grappigste cartoons!
Bezoekers die het filmpje doorstuurden, maakten kans op een '84 TransAm:
Ford neemt 9 Mustangs mee naar SEMA-Beurs
Ford staat over een paar dagen met niet minder dan negen verschillende versies van hun 2011 Mustang op de SEMA. Gezien het offensief dat concurrent Chrysler plant, kon Ford natuurlijk niet achterblijven. En bovendien schijnen ze weer een beetje beter in de slappe was te zitten, en dat is altijd fijn voor beurzen en andere frivoliteiten.
De Mustangs zijn allemaal gecustomized door verschillende bedrijven, en zullen naast de Boss 302 op de beursvloer verschijnen. Naast de wit-rode versie door Raceskinz en de uitvoering van Team Baurtwell (blauw met witte striping) staan er nog versies van MRT (zwart met rode striping), een mooie roze cabrio van Creations n' Chrome, een blauw exemplaar van Muscle Mustangs and Fast Fords, eentje van Mobsteel (zwart met rode accenten), Street Scene Equipment (rode cabrio), een grijze Tjin Edition, en tot slot een witte met rode velgjes, die door Ford Vehicle Personalization zelf onder handen is genomen.
Naast de Mustangs staat er ook nog een Fiesta met 354 pk, en een straffe F-series. De 'stangs zullen echter de boventoon voeren, en dat is niet zo vreemd, want de Pony Car maakt per slot van rekening onlosmakelijk deel uit van de Amerikaanse autocultuur.
Foto's of the 9 Tuningcars:
De poster van de Knight Rider Festival 2011 THE ORIGINAL:
GM update: Pontiac is dood, 22.000 ontslagen etc…
GM heeft zojuist een persconferentie gegeven waarin ze een update hebben gegeven van hun plannen om te blijven leven. Ze moeten namelijk voor 1 juni de Amerikaanse overheid weten te overtuigen. Wat gaan ze allemaal doen?
Het legendarische merk Pontiac zal het einde van 2010 niet halen. Het merk zal langzaam worden uitgefaseerd en uiteindelijk een stille dood sterven. Jammer, maar het is niet anders.
En ook voor Saab, Saturn en HUMMER ziet het er niet goed uit. Voor deze merken moet voor het einde van 2009 een oplossing gevonden zijn (lees verkocht) anders zullen ze net zo eindigen als Pontiac.
GM wil slechts 4 merken overhouden en dat zijn: Chevrolet, Cadillac, Buick en GMC. Eind 2010 wil GM nog maar 34 verschillende modellen voeren, eind 2008 waren dat er nog 48. Verder wil GM eind 2010 maar liefst 42% minder dealers hebben in Amerika ten opzichte van 2008. Ook zal de hoeveelheid fabrieken in de VS verder omlaag worden gebracht van 47 in 2008 naar 34 eind 2010 en in 2012 moeten dat er nog maar 31 zijn. Oh ja, per 1 juni 2009 zal de Amerikaanse overheid voor 50% eigenaar worden van GM.
Alles details van de update kan je lezen in onderstaand persbericht van GM:
*************************************************
GM Accelerates its Reinvention as a Leaner, More Viable CompanyUpdated Viability Plan Speeds, Deepens Restructuring of U.S. Operations
DETROIT — General Motors (NYSE: GM) today presented an updated Viability Plan that will speed the reinvention of GM's U.S. operations into a leaner, more customer-focused, and more cost-competitive automaker.
The Viability Plan is included in an exchange offer whereby GM is offering certain bondholders shares of GM common stock and accrued interest in exchange for certain outstanding notes.Revised Viability Plan goes further and fasterSignificant changes include:
"We are taking tough but necessary actions that are critical to GM's long-term viability," said Fritz Henderson, GM president and CEO. "Our responsibility is clear – to secure GM's future – and we intend to succeed. At the same time, we also understand the impact these actions will have on our employees, dealers, unions, suppliers, shareholders, bondholders, and communities, and we will do whatever we can to mitigate the effects on the extended GM team."Fewer U.S. brands, nameplates, and dealers
The revised plan moves up the resolution of Saab, Saturn, and Hummer to the end of 2009, at the latest. Updates on these brands will be provided as these initiatives progress.
Working with its dealers, GM anticipates reducing its U.S. dealer count from 6,246 in 2008 to 3,605 by the end of 2010, a reduction of 42 percent. This is a further reduction of 500 dealers, and four years sooner, than in the February 17 Plan. The goal is to accomplish this reduction in an orderly, cost-effective, and customer-focused way. This reduction in U.S. dealers will allow for a more competitive dealer network and higher sales effectiveness in all markets. More details on these initiatives will be provided in May.Sales volume and market share projections
The Viability Plan also reduces GM's market share projections to adjust for the impact of the brand and dealer consolidation, as well as for the short-term impact of speculation regarding a GM bankruptcy. The plan assumes a 19.5 percent share in 2009, with share stabilizing in the 18.4 to 18.9 percent range in subsequent years.
"We have strong new product coming for our four core brands: the Chevrolet Camaro, Equinox, Cruze and Volt; Buick LaCrosse; GMC Terrain; and Cadillac SRX and CTS Sport Wagon and Coupe," said Henderson. "A tighter focus by GM and its dealers will help give these products the capital investment, marketing and advertising support they need to be truly successful."Lower structural costs, lower breakeven point
GM will lower its breakeven point by cutting its structural costs faster and deeper than had previously been planned:
* Manufacturing: Consistent with the mandate to accelerate restructuring, we plan to reduce the total number of assembly, powertrain, and stamping plants in the U.S. from 47 in 2008 to 34 by the end of 2010, a reduction of 28 percent, and to 31 by 2012. This would reflect the acceleration of six plant idling/closures from the February 17 plan, and one additional plant idling. Throughout this transition, GM will continue to implement its flexible global manufacturing strategy (GMS), which allows multiple body styles and architectures to be built in one plant. This enables GM to use its capital more efficiently, increase capacity utilization, and respond more quickly to market shifts.
* Employment: U.S. hourly employment levels are projected to be reduced from about 61,000 in 2008 to 40,000 in 2010, a 34 percent reduction, and level off at about 38,000 starting in 2011. This further planned reduction of an additional 7,000 to 8,000 employees from the February 17 Plan is primarily the result of the previously discussed operational efficiencies, nameplate reductions, and plant closings. GM also anticipates a further decline in salaried and executive employment as it continues to assess its structure and execute the Viability Plan. More details will be announced as soon as they are finalized with the various stakeholders.
* Labor costs: The Viability Plan assumes a reduction of U.S. hourly labor costs from $7.6 billion in 2008 to $5 billion in 2010, a 34 percent reduction. GM will continue to work with its UAW partners to accomplish this through a reduction in total U.S. hourly employment as well as through modifications in the collective bargaining agreement.
As a result of these and other actions, GMNA's structural costs are projected to decline 25 percent, from $30.8 billion in 2008 to $23.2 billion in 2010, a further decline of $1.8 billion by 2010 versus the February 17 Plan.Strengthening GM's balance sheet
"A stronger balance sheet would free the company to invest in the products and technologies of the future," Henderson said. "It will also help provide stability and security to our customers, our dealers, our employees, and our suppliers."
Another important part of improving the balance sheet will be the ongoing discussions with the UAW to modify the terms of the Voluntary Employee Benefit Association (VEBA), and with the U.S. Treasury regarding possible conversion of its debt to equity. The current bond exchange offer is conditioned on the converting to equity of at least 50 percent of GM's outstanding U.S. Treasury debt at June 1, 2009, and at least 50 percent of GM's future financial obligations to the new VEBA. GM expects a debt reduction of at least $20 billion between the two actions.
In total, the U.S. Treasury debt conversion, VEBA modification and bond exchange could result in at least $44 billion in debt reduction.
Throughout the Plan, GM will continue to make significant investment in future products and new technologies, with an investment of $5.4 billion in 2009, and investments ranging from $5.3 to $6.7 billion from 2010 to 2014. Very importantly, development and testing of the Chevy Volt extended-range electric car remains on track for start of production by the end of 2010 and arrival in Chevrolet dealer showrooms soon thereafter.
"The Viability Plan reflects the direction of President Obama and the U.S. Treasury that GM should go further and faster on our restructuring," Henderson said. "We appreciate their support and direction. This stronger, leaner business model will enable GM to keep doing what it does best – provide great new cars, trucks and crossovers to our customers, and continue to develop new advanced propulsion technologies that are vital for our country's economy and environment."

Another key element of GM's restructuring will be taking the necessary actions to strengthen its balance sheet. GM today took an important step in improving its balance sheet by launching a bond exchange offer for approximately $27 billion of its unsecured public debt. If successful, the bond exchange would result in the conversion of a large majority of this debt to equity.
The Viability Plan also lowers GMNA's breakeven volume to a U.S. annual industry volume of 10 million total vehicles, based on the pricing and share assumptions in the plan. This lower breakeven point (at an adjusted EBIT level) better positions GM to generate positive cash flow and earn an adequate return on capital over the course of a normal business cycle, a requirement set forth by the U.S. Treasury in its March 30 viability plan assessment.
The Viability Plan anticipates improved financial results despite more conservative U.S. sales volume expectations going forward. The lower volume expectations are the result of managing the business with fewer nameplates and dealers, leaner inventories, and reduced market share. To address the inventory issue, GM on April 23 announced U.S. production schedule reductions of approximately 190,000 vehicles during the second and early third quarters of 2009.
As part of the revised Viability Plan and the need to move faster and further, GM in the U.S. will focus its resources on four core brands, Chevrolet, Cadillac, Buick and GMC. The Pontiac brand will be phased out by the end of 2010. GM will offer a total of 34 nameplates in 2010, a reduction of 29 percent from 48 nameplates in 2008, reflecting both the reduction in brands and continued emphasis on fewer and stronger entries. This four-brand strategy will enable GM to better focus its new product development programs and provide more competitive levels of market support.
* A focus on four core brands in the U.S. – Chevrolet, Cadillac, Buick and GMC – with fewer nameplates and a more competitive level of marketing support per brand.
* A more aggressive restructuring of GM's U.S. dealer organization to better focus dealer resources for improved sales and customer service.
* Improved U.S. capacity utilization through accelerated idling and closures of powertrain, stamping, and assembly plants.
* Lower structural costs, which GM North America (GMNA) projects will enable it to breakeven (on an adjusted EBIT basis) at a U.S. total industry volume of approximately 10 million vehicles, based on the pricing and share assumptions in the plan. This rate is substantially below the 15 to 17 million annual vehicle sales rates recorded from 1995 through 2007.
The Viability Plan announced today builds on the February 17 Viability Plan submitted to the U.S. Treasury. The revised Plan accelerates the timeline for a number of important actions and makes deeper cuts in several key areas of GM's operations, with the objective to make us a leaner, faster, and more customer-focused organization going forward. ********************************************

Pontiac sterft op 31-10-10 officieel
Het was al geruime tijd duidelijk dat automerk Pontiac niet meer in leven is. Maar sinds gisteren is het officieel. Pontiac is er niet meer. Dealers van het Amerikaanse merk, dat reeds in 1968 een verkoop van bijna 1 miljoen units wist te realiseren, hebben geen contractuele afspraken meer met GM.
Op 31 oktober 2010 lopen de overeenkomsten van GM met Pontiac dealers af. Gisteren, na 84 jaar is het dus einde verhaal. Het was te verwachten, de downfall was al lange tijd in gang gezet. Een bekende huisvriend/commenter noemde het destijds terecht. Het merk had geen bestaansrecht meer, net zoals vele andere automerken waar de wereld niet echt op zit te wachten. De merknaam gaat even in de vriezer en komt vast ooit nog eens van pas, net zoals Spyker.
Pontiac is opgericht in 1926 door GM. De diverse merken van General Motors concurreerden met elkaar, maar konden de strijd met Ford's goedkopere Model T niet aan. Er werd daarom besloten een nieuw merk op te richten tussen Chevrolet en Oldsmobile. Pontiac was born. Men maakte auto's voor de arbeidersklasse. Na een flinke dip in de jaren vijftig besloot men het merk te verbinden aan de autosport. Vanaf dat moment werd elke Pontiac verkooppiek gedreven door snelheid. Het meest legendarische model was de GTO, een echte muscle car. De auto kwam tot stand toen enkele GM-ingenieurs een krachtige V8 onder de kap van de kleine Pontiac Tempest hadden gelegd. De letters stonden voor "Gran Turismo Omologato," Italiaans voor "Ready to Race".
De GTO werd in Amerika ook "Auto van het jaar" en Pontiac verkocht ruim 900.000 auto's. Dankzij de GTO begon Pontiac weer te bloeien, 17 procent van de 5,4 miljoen auto's en vrachtwagens die GM in de VS verkocht was een Pontiac (1968). In 1969 kwam de Pontiac Trans Am uit, met 335 pk was dit de krachtigste pony car uit die periode. Het merk was dat jaar wederom de nummer 3 qua verkoopcijfers in de VS. De Trans Am kennen we overigens uit Knight Rider, beter bekend als KITT.
Maar helaas, what goes up must go down. Dat was in het geval van Pontiac vooral dankzij een gebrek aan consistente strategie of leiderschap. Directieleden volgden elkaar in hoog tempo op, elk met een verschillende visie. Sommigen hebben zelfs geprobeerd om van Pontiac een luxe merk te maken. De strategie die uiteindelijk het merk echt naar beneden heeft gehaald is rebadging, een term die we vandaag de dag nog steeds veel voorbij zien komen. Men gebruikte minder krachtige en aantrekkelijke auto's binnen het GM-concern als basis voor de modellen van Pontiac. Het merk heeft nooit meer terug kunnen keren naar de zestiger jaren, met supercharged verkoopaantallen.
Een dieptepunt was eind jaren negentig, toen Pontiac de Aztek introduceerde. Het was een poging om kampeer-liefhebbers te combineren met SUV-rijders, dat resulteerde uiteindelijk in een notering in lijsten zoals de 100 lelijkste auto's aller tijden en de 50 slechtste auto's ooit.
Afgelopen jaren heeft GM geprobeerd om het merk weer op te krikken met krachtige sedans, zoals de Pontiac G8, waarbij 50 Cent mocht helpen om het imago te verfijnen… Maar dealers misten een volledig aanbod van modellen, en de omgedoopte Chevy's werden sowieso niet enthousiast ontvangen. In mei van dit jaar werd door GM de laatste Pontiac geproduceerd. Na dit weekend zal elke nieuwe Pontiac worden beschouwd als een occasion; een gebruikte auto van GM.
50 Cent met zijn Pontiac G8 GXP

Nederlandse Knight Rider meeting
Hallo mede Knight Rider fans. 
De nieuwe Knight Rider meeting zal gehouden gaan worden op Zaterdag 18 september 2010 bij ACM Fleetforce in Putten op de Ruitenbeek 9. Verdere details volgen, wel kunnen we vertellen dat het weer een groot feest gaat worden. Dus veel K.I.T.T. replicas, veel verzamelingen te zien, exclusieve videos, en nog veel meer. Ook kunnen jullie nu zien op de site welke replicas zeker hebben toegezegd te komen!  
Once more, keep checking the site and BE THERE!
De meeting is alweer voorbij en het was natuurlijk weer 1 GROOT succes! Je kunt meer over de meeting lezen en zien op Hart van Nederland, want ook de filmploeg is er geweest! Helaas konden wij als producers van deze site niet komen...Maar we komen volgend jaar vast en zeker! Groetjes aan de KR-fans die er wel zijn geweest namens ons! Ga naar: http://www.hartvannederland.nl/nederland/gelderland/2010/kitt-doet-zn-best-op-fanclubdag/

---
 Knight Rider second season campaign!



About the campaign
With the economy slowing business across the land, not even Knight Rider is safe. Recently in an effort to reduce budgets, Knight Rider's episode order was cut from 23 to 17. Next year, Jay Leno moves into the prime time slot on NBC, meaning that there is 5 less hours of television for shows like ours.
It is because of this reduction that we believe it is important to start now to show those in charge at NBC that we are passionate about Knight Rider and that it should be renewed for a second season. There are two ways below to help show your support:
1. SEND A LETTER

We strongly believe that the best way to get a message to NBC (besides having a nielson box) is to take the time to mail a physical letter. This shows to the executives that you spent time and energy delivering to them an important message.
Please send all correspondence to:
Angela Bromstad 100 Universal City Plaza
Building 1320E 4th Floor
Universal City, CA 91608

Ben Silverman 3000 W. Alameda
Admin Building
Burbank, CA 91523

Marc Graboff 3000 W. Alameda
Admin Building
Burbank, CA 91523
To help get you started here are a couple of pre-formated letters. Though we do recommend you handwrite a personal message on them.
To Angela Bromstad:
Letter 1.
COLOR
http://www.knightrideronline.com/knight_rider_2008/campaign/kr_letter_color.pdf
BLACK & WHITE
http://www.knightrideronline.com/knight_rider_2008/campaign/kr_letter.pdf
Letter 2.
COLOR
http://www.knightrideronline.com/knight_rider_2008/campaign/kr_letter2_color.pdf
BLACK & WHITE
http://www.knightrideronline.com/knight_rider_2008/campaign/kr_letter2.pdf

To NBC:
Letter 1.
COLOR
http://www.knightrideronline.com/knight_rider_2008/campaign/kr_letter_color_generic.pdf
BLACK & WHITE
http://www.knightrideronline.com/knight_rider_2008/campaign/kr_letter_generic.pdf
Letter 2.
COLOR
http://www.knightrideronline.com/knight_rider_2008/campaign/kr_letter2_color_generic.pdf
BLACK & WHITE
http://www.knightrideronline.com/knight_rider_2008/campaign/kr_letter2_generic.pdf

EMAIL FEEDBACK
Another great way to contact NBC is via email. Through their contact form at NBC.com 
http://www.nbc.com/Footer/Contact_Us/
(select "Other" from the drop down), you can instantly send your thoughts on Knight Rider. To help you do this daily, may we suggest some of the following constructive lines:
Thank you NBC for bringing back Knight Rider, with Turbo Boost and KARR--what more could a fan ask for?...Well, come to think of it, a SECOND SEASON OF KNIGHT RIDER!
The reboot of Knight is the best thing to happen since.....the original series! We are looking forward to season two!
Gary Scott Thompson and the cast of Knight Rider are amazing! We just have one request for season two - can you resurrect Goliath?
All I have to say is that Knight Rider is truly "K.I.T.T.": Kool, Innovative, and Totally Turboboost!
All "KITT-ing" aside, Knight Rider keeps getting better every week--love that Ford!
Knight Rider is missing just one thing: MORE EPISODES! Looking forward to season two!
Cars are cool, but Knight Rider has taken that Ford Mustang to a whole new level. When can we start buying the mock-up's of KITT?
My family and I are thrilled that Knight Rider landed back on N.B.C.! Thanks for the great ride thus far!

Alvast bedankt namens ons, KRmagazine.webklik.nl en knightrideronline.com
Wij hopen dat er een tweede seizoen komt van Knight Rider 2008.


---
 Knight Rider Festival 1 & 2 GREAT SUCCESS!! 3rd Festival of Knight Rider this   year again!
Knight Rider Festival III teaser poster released

Look for more information about Knight Rider Festival 1, 2 and 3 on the original site of Knight Rider Festival. This is the link:
http://knightriderfestival.com/2011/
and for the other festivals (1 and 2) is this the link:
2010: http://knightriderfestival.com/2010/
2009: http://knightriderfestival.com/2009/

Poster of the Knight Rider Festival 2010:
Poster of the Knight Rider Festival 2009:
BE THERE AT KNIGHT RIDER FESTIVAL 2011 IN
LAS VEGAS, NEVADA, MARCH 18-19!!!
---
Knight Rider "The Ride" set open in Japan 2011!


This was an april fools prank conceived by our pal nick nugent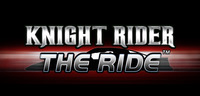 We are thrilled to announce this today! In a partnership with Universal Foreign Entertainment, we are happy to let you know that there will be a Knight Rider roller-coaster! The first of it's kind ride will open at Universal Studios: Japan in 2011!
Visitors of "The Ride" will be part of a complete immersive experience. The line will take them through the Knight Mansion and through the Knight Museum, where video displays will feature new footage shot by David Hasselhoff as Michael Knight. Fans will be treated to a trip through the series with full scale replicas of KARR and other memorable episodes such as a shrine to Stevie Mason. While visiting the museum, visitors will be briefed on FLAG and their current mission, and be asked to help fight evil. They will then board the "K.I.T.T. Coaster 2000" to battle the evil Goliath!
They've provided us with this exclusive conceptual art for "The Ride", which you can see below. Be sure to check out the full press release after the jump!
Remember this is an exclusive that you will only see here at Knight Rider Online! The Official Release will be announced tomorrow to all outlets, be sure to check back here then for more information!
---
Dat blijkt uit onderzoek onder bijna 1000 mannen door Panorama en Automaxx.
Zestig procent praat graag tegen zijn auto. Ruim 30% doet dit, omdat ze hun bolide als beste vriend te beschouwen. Bijna twintig procent zegt dit fijn te vinden omdat de auto tenminste niet terug praat.

David Hasselhoff met zijn (terug) pratende auto in de hitserie Knight Rider.

---
 K.I.T.T. de babbelende auto nu werkelijkheid!!!
's Werelds eerste pratende auto is in Nederland gearriveerd. Het AD had gisteren de primeur en verslaggever Niek Schenk ging ermee de weg op.
Was een pratende auto in de jaren '80 nog sciencefiction, nu is hij gewoon te koop. Met prijzen vanaf €28.680 staat de Mini Cooper Camden vanaf deze maand bij de dealers. Een eerste kennismaking met het technisch vernuft roept onmiddellijk herinneringen op aan de tv-serie Knight Rider uit de jaren '80, met Kitt, de pratende auto.

De Mini blijkt niet van één, maar van twee stemmen voorzien. Zodra de motor wordt gestart, wenden een dame en heer zich tot de bestuurder. In perfect Engels beginnen zij van alles en nog wat te roepen: ,,De motor loopt, daar gaan we!'' Terloops worden er wat controles uitgevoerd. En: ,,De tank zit nog voor driekwart vol, dus voorlopig kunnen we vooruit.'''

Het is duidelijk: een autorit zal nooit meer hetzelfde zijn, want de dame en heer in kwestie blijken zich voortdurend met de bestuurder te bemoeien. ,,Het is wat fris buiten,'' hoor ik, terwijl ik in het dashboard zie dat de buitentemperatuur inderdaad de 10 graden niet haalt.

En als ik even flink gas geef, krijg ik een standje: ,,Hoooo, hier spreekt de motor. Ik ben nog niet genoeg opgewarmd!'' Later krijg ik evenwel het groene licht: ,,Ik ben er klaar voor.''

Ik besluit even lekker snel door een bocht te gaan en word daarbij aangemoedigd: ,,Wow! Dit is de Mini Emotie!'' Ik trap het gaspedaal nog eens flink in en hoor: ,,Je moet een Mini niet onderschatten, dat zei ik toch?'' Bij de volgende bocht wordt de spraakcomputer ineens intiem. ,,Whoopie! Ik ben verliefd, voel je het?''

Als bestuurder moet je er in deze spraakwaterval wel voor waken dat het enthousiasme je niet te veel opzweept. Voor je het weet eindig je tegen een boom. Het gebabbel is bovendien wel erg aanwezig. Soms klinken er bijvoorbeeld wetenswaardigheden over het merk, waar je wellicht op dat moment helemaal niet op zit te wachten: ,,Sinds de jaren '60 zijn er Mini's met strepen op de motorkap.'' Maar de meeste opmerkingen gaan gepaard met een flinke dosis humor en ontlokken een glimlach aan de bestuurder.

Al eerder werden spraakchips in auto's toegepast, maar nooit eerder was het systeem zo veelomvattend als in deze auto. Zoveel mogelijk sensoren en metertjes zijn erop aangesloten, zodat de coördinerende computer van alles op de hoogte is, van het schakel- en stuurgedrag van de bestuurder, tot de rijsnelheid, de tankinhoud en de buitentemperatuur.

Het spraaksysteem, dat overigens met een druk op de knop is uit te schakelen, heeft volgens de fabrikant een zowel onderhoudende als nuttige functie. Het waarschuwt de bestuurder bij slipgevaar of een dreigende lege tank, maar dient vooral om de emotie van het autorijden te versterken.

BMW, de eigenaar van het klassieke Britse automerk Mini, heeft het spraaksysteem ontwikkeld ter gelegenheid van het 50-jarig jubileum van Mini. Het is dan ook voorlopig uitsluitend in dit jubileummodel verkrijgbaar. Wel is de fabrikant voornemens om dit zogenoemde Mission Control later ook in andere versies als optie te leveren. Het biedt nog oneindig veel mogelijkheden, vooral ook omdat de elektronica in auto's nog steeds verder toeneemt.

Hoe meer camera's en sensoren, des te makkelijk wordt het straks om bijvoorbeeld een soort van rij-instructeur in auto's in te bouwen. Technisch zal het geen enkel probleem zijn om de computer in het Nederlands te laten praten. Tot het zover is, moeten we het doen met deze kwebbelende Mini Camden. Als ik de motor uit zet, klinkt nog snel een afscheidswoord: ,,Dag! Tot gauw!'' (NIEK SCHENK)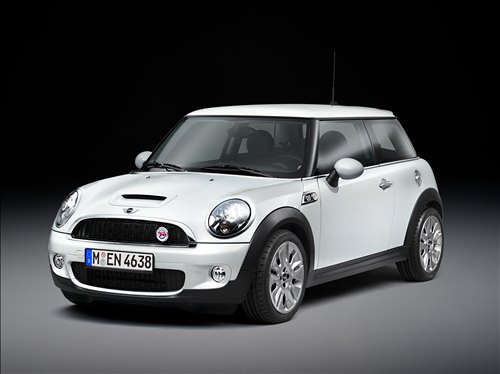 De babbelende auto; De Mini Camden
---
K.I.T.T. most popular TV car of all time
 KITT, the talking supercar from 1980s TV series Knight Rider has been voted the most popular TV car of all time.
The black 1982 Pontiac Trans Am, driven by Michael Knight, played by David Hasselhoff, received 24 per cent of the votes in a British poll. Del Boy's yellow Robin Reliant from Only Fools and Horses came a close second with 20 per cent.
Marty McFly's time-travelling DeLorean, driven by Michael J Fox in the Back to the Future movies, rolled in third with 16 per cent.
Meanwhile, Starsky and Hutch's Ford Torino came fourth followed by the Batmobile, both with 14 per cent.
Herbie and Chitty Chitty Bang Bang came fifth and sixth, with eight and four per cent respectively.
The US series Knight Rider starred Hasselhoff as Michael Knight, a former policeman recruited by the 'Foundation of Law and Order' to fight crime.
Talking supercar KITT - which stood for Knight Industries Two Thousand - was famed for its turbo boost mode allowing it to leap over obstacles at 300mph.
Tom Evans from MSN Cars, which carried out the survey, said: "KITT enables you to play the hero - with his loyal personality and often sensible advice, he's above and beyond just a cool car, he's a modern man's best friend."
Best loved TV cars are:
1. Kitt, Knight Rider - 24 per cent
2. Del Boy's Robin Reliant, Only Fools and Horses - 20 per cent
3. The DeLorean, Back to the Future - 16 per cent
4. Ford Torino, Starsky and Hutch - 14 per cent
4. Batmobile, Batman - 14 per cent
6. Herbie - eight per cent
7. Chitty Chitty Bang Bang - four per cent


KI2T animated

---
Justin Bruening to star in Hallmark Original Movie

After a well deserved break, news comes that Justin Bruening will be returning to TV with a staring roll for the Hallmark Channel!
From worldscreen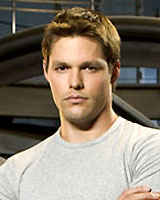 LOS ANGELES: Production is under way on the new Hallmark original movie Class, which stars Jodi Lynn O'Keefe, Justin Bruening, Constance Marie and Eric Roberts.

 

The movie follows a well-to-do law student (Bruening, Knight Rider, General Hospital), who is given an assignment to help a disadvantaged single mother (O'Keefe, Prison Break) find a job. His professor (Marie, George Lopez) makes this part of his requirement to graduate. A series of incidents and unexpected events lead them to realize that they're more alike than they had at first thought, and they come to understand that they have a lot to learn from one another.
According to Variety "Class" it will air on February 1st on the Hallmark Channel and broadcast in HD
Congrats to Justin!

---
Knight Rider 2008 season 1 out on July 28!

The first season of the new Knight Rider show will be released on DVD on July 28, 2009. The website TVshowsonDVD released more info today:
"It's been over a month since we first reported that Amazon.com was taking pre-orders for Knight Rider - Season 1, the 2008 remake series starring Justin Bruening, Deanna Russo, Sydney Tamiia Poitier, Bruce Davison and the voice of Val Kilmer. At the time there was no release date or details, just a list price of $59.98 SRP (although Amazon is heavily discounting pre-purchases; the consumer cost is currently at $41.99, although that could change without warning, at Amazon's discretion).

Today Universal Studios has made new details available to retailers for this item, including a release date of July 28th. The title is still called "Season 1", at least currently...we expect it to change since there won't be any further seasons (word has been circulating for a while now that NBC won't be picking up the program for their fall schedule). This will be a 4-DVD set running 802 minutes, presented in anamorphic widescreen video. Audio is English Dolby Digital 5.1 Surround, and English subtitles will also be provided. There will also be a few bonus features:
The Icon Reborn

K.I.T.T. - From 2000 to 3000

Knight Rider - Legacy

Knight Rider 2008 Commentary With Executive Producer David Bartis and Stars Justin Bruening & Deanna Russo
Package art isn't available yet, but here is the studio description of this release:
An iconic TV classic is back and better than ever in the reinvented, updated, and super-charged Knight Rider Season One. From executive producers Doug Liman (The Bourne Identity franchise), David Bartis (The O.C.) and Glen Larson (Battlestar Galactica) comes this action-packed series about the coolest car ever created, K.I.T.T. (Knight Industries Three Thousand), that's equipped with artificial intelligence capable of hacking into any computer, the weapons system of a jet fighter, and incredible custom body technology that allows it to transform into other vehicles. Relive every Season One episode as an elite team of crime-fighters work with K.I.T.T. to track down elusive, high-tech villains. You won't want to miss this fast-paced ride to the wild side!"

Knight Rider 2008 Season 1!!!
---
Til so far the news of these months (from November). We hope you know some little more. Greets of the Producers of KR Magazine.